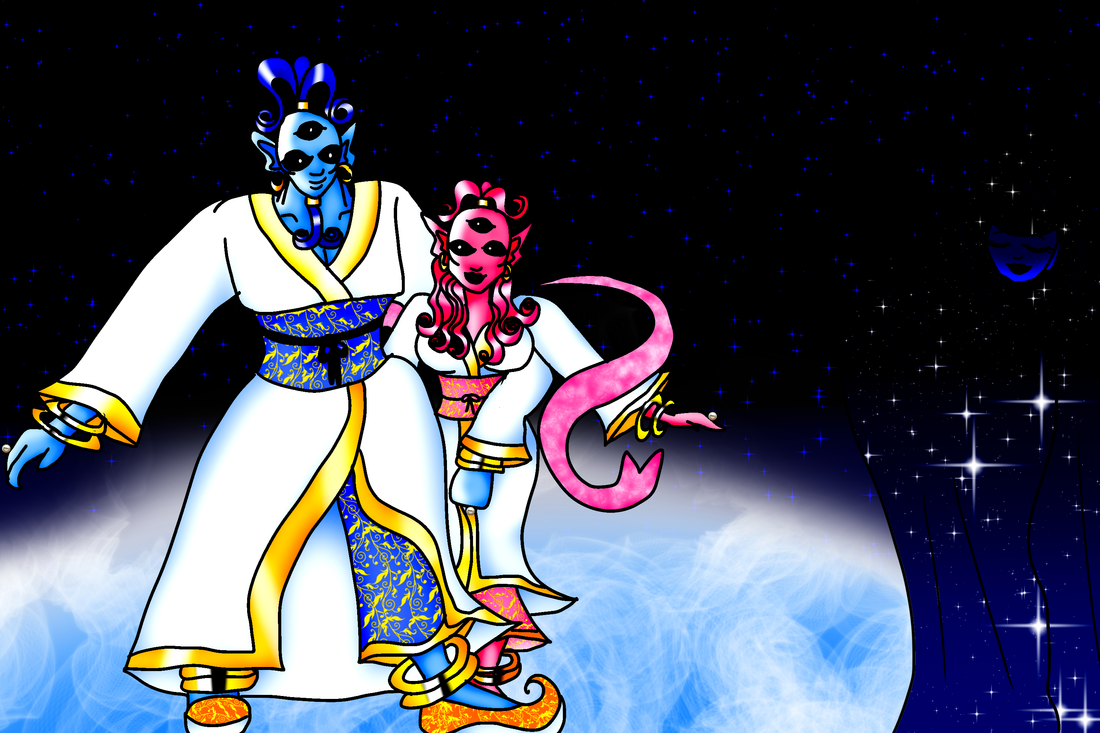 So now I must introduce to you the species responsible for the Humanesques.

On the left are two creatures we will call "Starwalkers".

Starwalkers are a slow-to-age, multi-colored group of creatures from another world. Giants when compared to the humans, they took over the Earth several millennia ago as children, and inadvertently started the plague of terror that has resulted in demons trying to take over the Earth.

The humans call the Starwalkers "Gods" but have no real idea the limitations this species must now abide by.

A Starwalker can be any color, except for one called "The Creator" whom the humans believe is God.

Yes. THAT "God".

His skin bears all of the colors in pastels, and though he is the post powerful of his kind, he is now the most humble with much to atone for. His greatest regret is having had to watch the murder of his son in 30 A.D. at the hands of humans, guided by demons.

On the right is a Fate, one of several creatures who oversee time.

Benevolent and kind, Fates had initially come to Earth to seize the Starwalkers, who permanently altered the Earth's timeline, but when the Starwalkers make an attempt to set things right, the creatures join forces, creating a new human-like species to restore the balance of good and evil.

This species was the Humanesques.

Long ago, the first batch restored order on Earth, but at the cost of their lives. The Fates have restored the first ones to life, but they must now reside inside the bodies of Ki-Chan's group, guiding them to take over the position of world defenders as the demons are once more gaining control.

Once selfish and tyrannical, the Starwalkers briefly greet Ki-Chan and her team in order to explain their powers.

The Starwalkers are no longer here for world control.

They are here... for redemption.